Founding Philosophy
South Baylo University is the oldest and larger acupuncture school in the country, and it was founded on three principal objectives: Value, Peace, and Professionalism. David J. Park, Ph.D., Founder, South Baylo University Dr. David J. Park, founder of South Baylo University, has over the years excelled both in the fields of business and economics. His academic preparation includes a bachelor's degree in Business and Public Administration from Claremont McKenna College, and master's and doctorate degrees in Economics from the University of Southern California. For over three decades, until the late 90's, Dr. Park was a professor of Economics at La Verne University, University of Maryland, and California State Polytechnic University. In the spring of 1977, he founded South Baylo University which was incorporated as a non-profit public benefit corporation in 1980. As the founder of the largest AOM educational institution in the United States, Dr. Park articulated the founding philosophy of South Baylo University outlining three principal objectives: Value, Peace, and Professionalism. Value The University encourages critical examination of one's own value judgments and the discovery of the true values upon which the acquisition of knowledge is based. The educational values of South Baylo University rest upon guiding the student to discover these values and to utilize them in the acquisition of knowledge. Peace The University has adopted a policy of making itself the meeting place for different cultures and values. In this way, mutual understandings and cooperation may occur. For this reason, the University encourages the enrollment of international students who aspire to learn about diverse cultures and understanding the beliefs of others. The University's educational programs offer an environment where cultures blend together to create an internationally recognized educational experience. Professionalism The University endeavors to help its students achieve professional excellence by offering highly specialized courses in allied healthcare fields. The University offers an opportunity for professional growth, chances to achieve professional excellence and the groundwork for establishing a satisfying professional life of commitment and contribution to society.
SBU History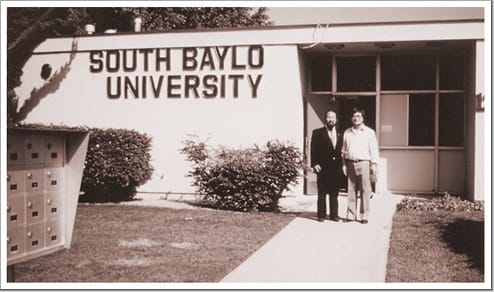 South Baylo University was established in 1977 in the City of Los Angeles as a post-secondary education institution. The University encompassed two schools: the School of Acupuncture and Oriental Medicine, and the School of Business Administration. The University moved to Garden Grove, California in Spring 1982 as a nonprofit, public-benefit corporation and in Fall 1994, moved again to its present location in Anaheim, California. Then in 1997, the schools separated and each became an independent school. As a free-standing, accredited School of Acupuncture and Oriental Medicine, SBU continued to grow and has become one of the largest and prestigious AOM schools in the USA. As a leader in Asian Medicine, SBU provides student-centered education and training based on the core value of HARMONY. Harmony of Bodily Functions, Harmony of Mind and Body, and Harmony of Life and Nature are the very foundation of Acupuncture and Oriental Medicine.
Mission, Value, and Purpose
South Baylo University is an institution dedicated to advancing Acupuncture & Oriental Medicine (AOM) through promoting high-quality learning, the discovery of new knowledge and excellence in the clinical application of AOM education for the benefit of diverse communities including our students the AOM profession, patients, and the public. We strive to admit students of exceptional character and academic accomplishment for education and training to become competent and caring primary health care practitioners of AOM, scientists, and teachers. South Baylo University Mission Statement The Mission of South Baylo University is to expand professional, clinical and scientific knowledge of oriental medicine and holistic healthcare among students, faculty, staff, and the general public through effective teaching, scholarly activity, and quality patient care. South Baylo University Value The value of South Baylo University is to view Harmony as being its eminent value, exemplifying Harmony of Bodily Functions, Harmony of Mind and Body, and Harmony of Life and Nature. They are considered the foundation of Acupuncture and Oriental Medicine (AOM) South Baylo University Purpose The purpose of South Baylo University is to promote good health and wellness through education, research, and AOM practice.
Educational Objectives:
In order to fulfill its mission, South Baylo University is committed to the following objectives:
To prepare students with the knowledge and skills to succeed in today's healthcare environment and to contribute to the community with their leadership, business insight, and professional skills.
To promote excellence in scholarly teaching, effective student learning, outstanding oriental medicine and holistic healthcare programs.
To provide effective patient care through oriental medicine and other holistic approaches.
To stimulate and promote research, scholarly activities, and professional development.
To create opportunities and an environment for students to gain experience in academic and clinical skills.
To provide and promote timely and pertinent educational opportunities to strengthen the competence of those who enter into careers in the acupuncture and Oriental medicine and its related health care areas.
To prepare students to become competent and successful working healthcare professionals.
Locations
Anaheim
South Baylo University
Address
1126 North Brookhurst Street
92801
Anaheim
,
California
,
USA
Los Angeles
Address
2727 West 6th Street

90057
Los Angeles
,
California
,
USA
Annandale
Address
7535 Little River Turnpike, Unit 325-A

22003
Annandale
,
Virginia
,
USA