University of Rzeszów - 6 Year M.D. Program in English, Faculty of Medicine
Home ›
Poland ›
University of Rzeszów - 6 Year M.D. Program in English, Faculty of Medicine
Rzeszów is a growing, vibrant city of about 192,000 residents located in southeastern Poland. The University of Rzeszow, which is a 15-minute walk from the center of the city, is a large public University with over 18,000 full and part-time students, 2,800 of which are enrolled in the Faculty of Medicine.
The University of Rzeszów Faculty of Medicine English Division offers a 6-year program leading to the degree of Medical Doctor (M.D.). The Faculty of Medicine English Division program of study is based on the standard 6 year European M.D. program consisting of 2 years of preclinical coursework and 4 years of clinical coursework and practice with instruction by medical faculty in English.
Application Information for the 6-year M.D. program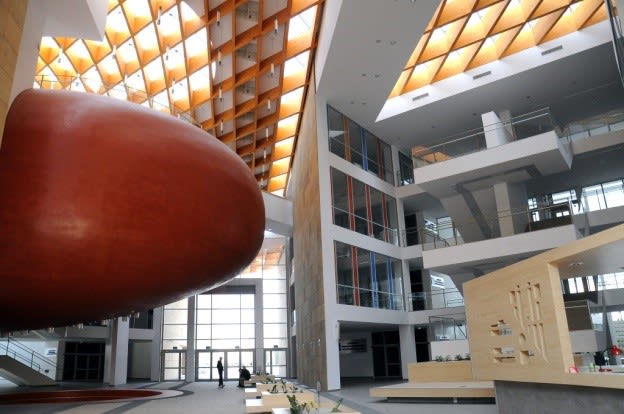 Preclinical and clinical instruction in anatomy, histology and embryology are held in the new Morphological Science building equipped with modern anatomy, histology, forensic medicine and pathomorphology laboratories. This modern building is equipped to accommodate 250 practicing students on any given day and classes are divided into groups of between 10 and 15 students. Clinical training is provided in groups of 5 students. The anatomy laboratory in the Morphological Science Unit is equipped with prosector tables with surgical lighting, confocal microscopy, computed tomography for forensic medical needs, digital three dimensional human models on a virtual anatomical table, and a fully equipped microscopy laboratory. Each student has access to a data bank library with histological slides of human organs.
Students are also instructed at the Clinical Provincial Hospital No. 1 and Clinical Provincial Hospital No. 2 (Clinical Provincial Hospital No. 2 is adjacent to the Morphological Science building) in Rzeszów and in several other local hospitals affiliated with the Faculty of Medicine. Over 6,000 medical professionals work in the Provincial Hospitals in Rzeszów.
In the first two years of preclinical study, students will take courses in Anatomy, Histology, Embryology and Cytophysiology, Biochemistry, Biophysics, Medical Psychology, Physiology, Molecular Biology, Microbiology with Parasitology, Immunology, Genetics, Hygiene and Epidemiology, Information Technology and Biostatistics, First Aid, Patient Care, Public Health,Medical Ethics, Family Doctor, and Emergency Aid.
Mandatory summer internships in clinical hospital training are often performed in our local hospitals and in other countries in Europe such as Italy and Germany.
Clinical courses taken during years 3-6 include Pathology, Pathophysiology, Pharmacology, Toxicology, Clinical Genetics, Imaging Diagnosis, Dermatology and Venereology, Infectious Diseases, Disaster Medicine, Otolaryngology, Masticatory Organ Disease, Internal Disease, Pediatrics, Internal Disease, Surgery, Gynecology, Laboratory Diagnostics, Neurology, Family Medicine, Anesthesiology, Emergency Medicine, Ophthalmology, Nuclear Medicine, Pulmonology, Transplantology, Psychiatry, Orthopedics, Neurosurgery, Urology, Oncology, Clinical Immunology, and Emergency medicine.
A graduate obtaining a professional title of Medical Doctor has the opportunity to work in public and private healthcare institutions, research institutions and research and development centers as well as institutions dealing with counseling and dissemination of knowledge concerning pro-health education.
The Faculty of Medicine English Division follows in the tradition of our established Medical School for Polish residents. This program is being offered to qualified high school graduates who have demonstrated excellence in the biological and physical sciences and are capable of undergoing preclinical and clinical medical training in spoken and written English. Candidates will be evaluated for admission based on their academic history and an interview that will assess knowledge in biology, chemistry, physics, and English language.
Locations
Rzeszow
Address
aleja Tadeusza Rejtana,16C
35-001
Rzeszow
,
Podkarpackie Voivodeship
,
Poland