Program Description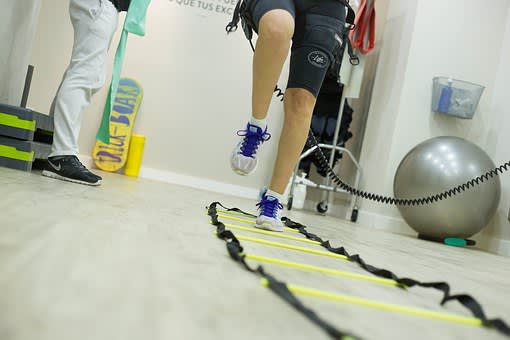 Introduction
The Degree in Physiotherapy Is a title of the Faculty of Physiotherapy. It belongs to the branch of knowledge of the Health Sciences, with a duration of four years and 240 ECTS credits in its totality.
Throughout history Physiotherapy has been configured a therapeutic discipline that aims at natural healing, which corresponds to the etymology of the term (physis = nature, and therapia = cure, care).
According to the World Confederation for Physiotherapy, Physical Therapy is one of the basic pillars of therapeutics, which medicine has to cure, prevent and readapt patients. Physiotherapy is a health discipline oriented to the promotion of health, prevention, treatment and physical rehabilitation of functional alterations.
Why study the degree
The Degree in Physiotherapy of the University of the Faculty of A Coruña is well-known throughout the country and enjoys a high participation and representation at an international level. Physiotherapists, in addition to welfare functions (in the public health system, in the free exercise and in social, sports and community entities or actions), perform teaching, research and management functions.
What is learned
In order to achieve the competences that guarantee the capacity to act in these fields, fundamental subjects of the field of physics, biology, medicine and surgery, psychology and physiotherapy are approached from a theoretical, practical and clinical perspective. Therefore, it requires the ability to integrate theoretical and practical knowledge in a reasoned and adapted way to the clinical situation of the person and its context.
Structure of the Study
1st Course
Anatomy I
Anatomy II
Physiology
Biophysics and Biochemistry
General Kinesitherapy
Theoretical Framework of Physiotherapy and Physical Rehabilitation
Functional and Psychosocial Assessment
General Physiotherapy
2nd Course
Biomechanics
Clinical Semiology
Medical-Surgical Pathology I
Psychology
Kinesitherapy: Bases of Therapeutic Exercise
Manual and Osteopathic Physiotherapy I
Physiotherapy in the Static Alterations and Dynamics of the Raquis
Neurological Physiotherapy and Psychomotor
Respiratory physiotherapy
3rd Course
Medical-Surgical Pathology II
Manual and Osteopathic Physiotherapy II
Cardio-respiratory and vascular rehabilitation
Physiotherapy in Neurological and Aging Disabilities
Physiotherapy Abdomino-Pelvi-Perineal
Oncology Physiotherapy and Biochemical and Integumentary Dysfunctions
Physiotherapy in Dysfunctions of the Locomotor Apparatus
Clinical stays I
Optional
4th Course
Documentation and Health StatisticsLegislation and Health Administration
Community Physiotherapy and Public Health
Optional
Clinical stays II
End of Grade Work
Professional and academic outputs
The basic profiles are the clinical-assistance, research, teaching and management.
Professional environment in which it is located
The professional environments in which the physiotherapist can develop his / her clinical and management action are public health centers (hospitals, outpatient clinics, health centers ...) and private (offices, hospitals, etc.).
In addition it can develop its action in non-sanitary environments, of social character and linked to the community health like social centers, city councils, schools and educational centers and of special education, sick associations, gymnasiums, recreational centers, companies and work centers, etc. .
On the other hand, in the performance of education and research functions, the physiotherapist can work in both public and private institutions.
Professional and academic outputs
Health institutions, educational and special education centers, social services, sports institutions, clinics, rehabilitation centers, gyms, spas, geriatrics, research centers, companies.
Recommended profile
The student who aspires to access the degree studies in Physiotherapy must possess characteristics common to the qualifications of health sciences with clinical profile. And specifically the following:
Interest in working in the area of ​​health needs of the community.
Capacity for teamwork.
Communication skills and empathy.
Sense of equity.
Open and receptive attitude to different sociocultural realities.
Emotional balance.
Observational and reflective ability.
Autonomous learning ability.
Ability to develop integrated theoretical-practical learning.
Psychomotor skills.
On the other hand, as an additional aspect, it is considered that a grade higher than 60% of the maximum score is important to be able to face the studies of Degree in Physiotherapy.
Common access requirements
In order to request a place, one of the following access requirements established in art. 2 of RD 1892/2008:
To be in possession of the title of Bachillerato, or equivalent, and to pass the Test of Access to the University (PAU)
Comply with the requirements for access to the university in the educational systems of member states of the European Union or other states with which Spain has signed international agreements in this area.
Have passed the University Access Test for over 25 years, or have it passed, in the University System of Galicia, according to previous regulations.
Have passed the university entrance test for those over 45 years.
Possess a title of superior technician of professional formation, teachings of plastic arts and design or superior technical technician, or equivalent titles.
Possess an official university degree, a degree from correspondents to the previous order of university education (graduate, graduate, engineer, etc.) or equivalent degrees.
To be able to access the university according to educational orders prior to that established by Royal Decree 1892/2008, of November 14, not contemplated in the previous sections.
Last updated Mar 2020
About the School
The University of A Coruña is a public institution whose primary objective is the generation, management and dissemination of culture and scientific, technological and professional knowledge through t ... Read More
The University of A Coruña is a public institution whose primary objective is the generation, management and dissemination of culture and scientific, technological and professional knowledge through the development of research and teaching.
Read less
A Coruña ,
A Coruña ,
A Coruña ,
A Coruña ,
A Coruña ,
A Coruña ,
A Coruña ,
A Coruña ,
Ferrol ,
Ferrol
+ 9 More
Less