BSc (Hons) in Optometry
Home ›
BSc ›
BSc (Hons) in Optometry
Read more about this program on the school's website
Program Description
Optometry is a healthcare profession concerned with examination, diagnosis and treatment of the human visual system.
In our ageing population, the demand for eye care is expected to increase, and optometrists are ideally placed to help meet this demand.
The programme is based on both fundamental academic sciences as well as detailed clinical and practical studies. The emphasis is very much on the optometric service to patients.
You will see patients in the University's own eye clinic, and attend local hospitals where you are instructed in the recognition and management of eye disease by senior ophthalmologists.
Our three-year programme enables you to progress towards practising as a registered optometrist - you will need to complete a year's pre-registration training after graduation in order to do this.
Professional accreditation
This programme is accredited by the General Optical Council.
Rankings
We are ranked 7th in the UK for Optometry, Ophthalmology and Orthoptics in the Complete University Guide 2020.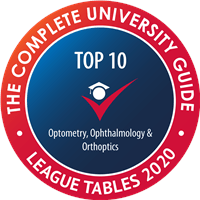 Entry requirements
A-Levels: Two pure Science subjects (Chemistry, Biology, Physics and Maths) required at minimum AA. General Studies is not accepted.
Please note that where a science A-level is taken, the University will require applicants to pass the practical element (for A levels awarded from August 2017 onwards).
BTEC Extended Diploma: Applied Science. DDD. Only accepted if combined with a Pure Science A-level minimum grade B.
Applicants on Access Programmes: Meet UCAS tariff of 136. Science, Medicine, Science and Engineering, Dentistry, Pharmacy or Medical Sciences accepted.
International Baccalaureate requirements
136 UCAS tariff points from 3 HL subjects to include 2 HL science subjects at Grade 6 and a third HL subject at Grade 6.
Plus
HL 3 or SL 4 in Maths and English Language and Literature A or English B.
Plus a minimum of Five GCSEs at grade C or grade 4 to include English Language, Maths (note: GCSE English Language and Mathematics equivalences will not be accepted) and at least one of the following: Double Award Science, Biology, Chemistry or Physics.
Those applying with Access courses are only required to have GCSE English Language and Maths, plus one Science subject (Double Award Science, Biology, Chemistry or Physics) at grade C or grade 4.
Additional entry requirements
All students enrolled in the course will be required to register with the General Optical Council (GOC).
Whilst not mandatory, a period of paid employment in an optical practice (supported by an employer reference) will strongly support an application.
English language requirements
Minimum IELTS at 6.5 or the equivalent
If you do not meet the IELTS requirement, you can take a University of Bradford pre-sessional English course.
CIFS entry requirement
If you are an international student and do not meet the entry requirements for direct entry onto this course you may be interested in our Certificate of International Foundation Studies
80 UCAS points or equivalent (see individual country pages for details) plus Maths and 2 Science qualifications equivalent to GCSE Grade C.
UKVI approved IELTS of 5.5 overall with no sub-test less than 5.0.
CIFS modules to be taken
Students study the four core modules plus TWO modules from the following:
Foundation in Human Biology
Foundation in Chemistry
Foundation Mathematics 2
Progression requirements for the degree programme
An overall average of at least 70% and at least 70% in BOTH optional modules and at least 50% in the English Language for Specific Academic Purposes with additional sub-test requirements.
What you will study
Students of optometry must acquire detailed knowledge and understanding of the human eye in health and disease, as well as the skills to examine the eye, supply and fit optical appliances, and diagnose and manage ocular conditions.
The work calls for a high degree of accuracy and attention to detail, and a measure of manual dexterity; all skills that students will have the opportunity to develop during the programme. Also necessary is interest and ability in scientific work, and the ability to communicate and empathize with people and to win their confidence. Students must also function as autonomous learners having, or being able and willing to develop, the ability to engage in independent and self-directed study.
Please note that for 2020 entry, the module information is subject to change.
First year
Core
Refraction and Refractive Error (OPT4002-B)
Pure and Visual Optics (OPT4003-B)
Physiology of Vision and Perception (OPT4004-B)
Evidence-Based Practice & Professionalism (OPT4007-B)
Ocular Health Assessment 1 (OPT4012-D)
Second year
Core
Ophthalmic Lenses and Dispensing (OPT5002-B)
Clinical Optometry and Communication Skills (OPT5004-B)
General and Ocular Pharmacology (OPT5006-B)
The Assessment and Management of Binocular Vision (OPT5008-B)
Ocular Health Assessment 2 (OPT5014-B)
Contact Lens Practice (OPT5011-B)
Final year
Core
Clinical Competence (OPT6012-Z)
Evidence-Based Optometry II (OPT6013-B)
Management of Ocular Disease (OPT6019-D)
Clinical Practice and Professional Studies (OPT6017-D)
Clinical Case Studies (OPT6014-B)
Learning and assessment
A wide variety of teaching methods are employed throughout the programme, including lectures, seminars, practical sessions and clinical supervision. They focus progressively on student-centred approaches to learning, such that students are expected to take increasing responsibility for their learning as they progress through the programme. The Optometry programme aims to select from a range of assessment methods for each module. All modules include both formative and summative assessments. Formative assessment has a developmental purpose and is designed to help students learn more effectively by giving them feedback on their performance and on how it can be improved and/or maintained. Summative assessment for each module includes written exams whilst many modules will require students to demonstrate practical or clinical ability or competence.
Facilities
The University's Eye Clinic provides comprehensive optometric services of a high standard to University staff, students, their families and members of the local community. It also supports local optometrists and other healthcare professionals requiring diagnostic, consultative or treatment services.
Eye Clinic
Visual Electrodiagnostic Testing Unit
Fees, finance and scholarships
Tuition fee
Home: £9,250
International: £19,160
Scholarships
Every year we award numerous non-repayable scholarships to UK, EU and international students on the basis of academic excellence, personal circumstances or economic hardship. For full details, visit our scholarships website.
Career support
The University is committed to helping students develop and enhance employability and this is an integral part of many programmes. Specialist support is available throughout the course from Career and Employability Services including help to find part-time work while studying, placements, vacation work and graduate vacancies. Students are encouraged to access this support at an early stage and to use the extensive resources on the Careers website.
Discussing options with specialist advisers helps to clarify plans by exploring options and refining skills of job-hunting. In most of our programmes, there is direct input by Career Development Advisers into the curriculum or through specially arranged workshops.
Career prospects
Most graduates, on completion of the pre-registration year and having passed the Final Assessment Examinations set by the College of Optometrists, become registered with the General Optical Council to practise as optometrists.
Once qualified you can work in private practice, in hospital optometry or in optometric teaching and research. You will need an interest and ability in scientific work, in helping and communicating with people, and a measure of manual dexterity.
Employment statistics
100% of our 2017 graduates in Optometry found employment or went on to further study within six months of graduating.*
Salary expectations
The average starting salary for our 2017 Optometry graduates was £15,874.*
Salaries for registered optometrists vary considerably and can be between £25,000 and £60,000.
*These DLHE statistics are derived from annually published data by the Higher Education Statistics Agency (HESA), based on those UK domiciled graduates who are available for employment or further study and whose destinations are known.
Study support
We have a commitment to strong pastoral care for all of our students, which includes a Personal Tutor for all students, regular contact hours for tutor groups and our supportive student service teams who are always ready to help with any questions and provide the advice that you need. In addition to standard study support through taught sessions, our Virtual Learning Environment allows students to access resources, participate in group work and submit work from anywhere in the world 24/7. University central services are rich with support teams to assist students in every aspect of their journey through our degree programmes. From our Career and Employability Service, through our strong Students' Union, to our professional and efficient Student Finance team, there are always friendly faces ready to support you and provide you with the answers that you need.
Research
The School of Optometry and Vision Science research group takes a multi-disciplinary approach to investigate vision and visual perception. This research informs our teaching, ensuring you are learning the very latest techniques and best practice. The group continues to build on over 35 years of vision research at the University of Bradford. Current research embraces a broad range of disciplines including ophthalmology, optics, ocular imaging, machine vision, psychophysics, biomechanics and visual neuroscience. Our aim is to further our understanding of the basic mechanisms of human vision in health and disease, as well as the functional consequences of visual loss. In pursuing this aim we have prioritised a strong translational research dimension and have developed an excellent track record of applying basic research to address clinical problems. The group has achieved a diversity that is naturally collaborative and multi-disciplinary, working with optometrists, ophthalmologists, orthoptists, medical engineers, physicists, psychologists and neuroscientists at local, regional, national and international levels.
Last updated Jan 2020
About the School
At the University of Bradford, you'll benefit from - and be a part of – teaching and research that harnesses technology for the good of society. You'll learn from academic and industry experts who are ... Read More
At the University of Bradford, you'll benefit from - and be a part of – teaching and research that harnesses technology for the good of society. You'll learn from academic and industry experts who are shaping the future of their sectors in world-class facilities. We've invested millions of pounds in high-tech learning environments, such as our motion capture studio and new School of Management facilities. During your time with us, you can become the very best version of yourself. The University is a place where you can expand your mind and make lifelong friends; where you can grow, learn, experience. Where you can belong, and where we support you every step of the way.
Read less