BSc (Hons) in Biomedical Science
Home ›
BSc ›
BSc (Hons) in Biomedical Science
Read more about this program on the school's website
Program Description
Biomedical Science is the in-depth study of human biology in both normal and disease states.
This course provides you with a detailed understanding of the causes of human disease, how these produce symptoms and the effects of disease on the structure and function of human cells, tissues, and the whole organism. Students learn both current techniques used in the study of human diseases in the NHS, and innovative technologies under development for experimental treatments.
The University of Bradford is in the top 50 universities for research in the latest Research Excellence Framework, with world-class researchers undertaking research-informed teaching.
Recent investment in the Digital Health Zone allows students to access the latest techniques in digital anatomy and pathology, including carrying out digital dissection using technology only available in six UK Universities.
Professional accreditation
The course is accredited by the Institute of Biomedical Science (IBMS).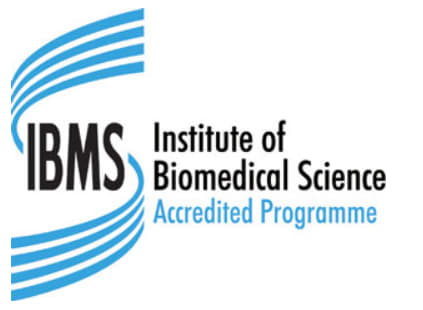 Entry requirements
A-Levels: To include either A-level Biology or Chemistry at grade B or above.
Please note that where a science A-level is taken, the University will require applicants to pass the practical element (for A-levels awarded from August 2017 onwards).
BTEC Extended Diploma
DDD in the BTEC Extended Diploma in Applied Science to include six of the following optional units passed at Merit:
Physiology of Human Body Systems
Human Regulation and Reproduction
Biological Molecules and Metabolic Pathways
Genetics and Genetic Engineering
Diseases and Infections
Applications of Inorganic Chemistry
Applications of Organic Chemistry
Microbiology and Microbiological Techniques
Industrial Chemical Reactions
Practical Chemical Analysis
Biomedical Science
Applicants on Access Programmes: 122 UCAS tariff points. Applicants must be studying an Access to Higher Education Diploma in a Science subject and achieve a minimum of 12 credits of Biology or Chemistry at Distinction.
International Baccalaureate requirements
120 UCAS tariff points to include HL Chemistry or Biology at grade 6, 1 other subject at grade 6 and a third subject at grade 5.
Plus
HL 3 or SL 4 in Maths and English Language and Literature A or English B.
Plus a minimum of GCSE English, Mathematics and two Sciences at grade C or 4 (equivalents accepted).
English language requirements
Minimum IELTS at 6.0 or the equivalent
If you do not meet the IELTS requirement, you can take a University of Bradford pre-sessional English course.
CIFS entry requirement
If you are an international student and do not meet the entry requirements for direct entry onto this course you may be interested in our Certificate of International Foundation Studies
80 UCAS points or equivalent (see individual country pages for details) plus Maths and 2 Science qualifications equivalent to GCSE Grade C.
UKVI approved IELTS of 5.0 overall with no sub-test less than 5.0.
CIFS modules to be taken
Students study the four core modules plus ONE from the following modules:
Foundation in Human Biology
Foundation in Chemistry
And one additional module from the following:
Foundation in Human Biology
Foundation in Chemistry
Introduction to the Social Sciences
Global Business Environment
Foundation Mathematics 2
Progression requirements for the degree programme
An overall average of at least 60% and at least 55% in Foundation in Chemistry OR Foundation in Human Biology
What you will study
This programme is accredited by the Institute of Biomedical Science (IBMS) giving you a broad-based scientific education coupled with the technical skills necessary for laboratory work. This broad-based education provides the foundation for a wide range of scientific careers, including as a Biomedical Scientist in a hospital environment (after successful completion of the IBMS portfolio of competence in an accredited laboratory placement and registration with the Health and Care Professions Council after graduation), as a laboratory-based or non-laboratory based scientist in the Pharmaceutical Industry and other related industries, academic research and teaching.
However, whilst the degree provides a qualification necessary to start your professional career you will need to continue to develop skills throughout your working life. This programme couples a scientific education with the development of the skills necessary for lifelong learning.
Please note that for 2020 entry, the module information is subject to change.
First year
Core
Developing Professional Skills 1 (BIS4003-B)
Cell and Tissue Biology (BIS4008-B)
Human Physiology (BIS4009-B)
Human Genetics and Developmental Biology (BIS4010-B)
Introductory Biochemistry (BIS4007-B)
Introductory Microbiology (BIS4013-B)
Second year
Core
Developing Professional Skills 2 (BIS5003-B)
Immunology, Haematology and Transfusion Science (BIS5012-B)
Medical Microbiology (BIS5008-B)
Clinical and Analytical Biochemistry (BIS5013-B)
Molecular Genetics (BIS5014-B)
Pathology (BIS5015-B)
Final year
Core
Biomedical Science Research Project (BIS6026-D)
Medical Genetics (BIS6011-B)
Biology of Disease (BIS6012-B)
1 of the following:
Research Topics 1 in Medical Cell Biology (BIS6006-B)
Research Topics 1 in Medical Biochemistry (BIS6009-B)
Research Topics 1 in Cancer Biology and Therapeutics (BIS6007-B)
Research Topics 1 in Medical Microbiology (BIS6008-B)
Research Topics 1 in Haematology and Transfusion Science (BIS6013-B)
Option
Research Topics 2 (BIS6010-B)
Elective
Placement
Some students choose to use the experience gained in the first and second years of the course to work in an industrial or research laboratory, although this is not a requirement of the course (for compulsory placement see Healthcare Science).
This optional year outside the University gives you the opportunity to explore potential careers in research and diagnostics and gain valuable experience useful in the laboratory-based final year project.
In the past, students have found a wide range of placements in hospitals (Yorkshire and Humber or local to their home), universities and companies including Astra Zeneca, Covance, Johnson & Johnson, GlaxoSmithKline, Mast Laboratories, Nestlé and the Sanger Centre in Cambridge.
We strongly recommend you take advantage of this opportunity. Your tutor will advise and help you organise your placement. We fully expect you will find the whole experience of great benefit to you, increasing your subject-specific skills and confidence - both as an individual and in your career.
Learning and assessment
Formal lectures will facilitate your acquisition of knowledge and understanding and discipline-specific skills. Laboratory sessions run in conjunction with the theoretical components will give you the opportunity to enhance your understanding of particular topics.
You will be examined, primarily, on the breadth of knowledge via MCQ and short answer examinations. Coursework assignments will give you the opportunity to gain experience in report writing and data handling and interpretation. As you progress through the programme you will have the opportunity to demonstrate increasing skills of analysis, synthesis and criticism through a wide variety of assessment strategies, including written and oral examinations, report writing, case studies, group work, essays, including a dissertation, oral presentations and the project report. The project report provides a major opportunity to demonstrate autonomy in data handling and critical interpretation in a research context.
Course assessment
The majority of modules contain exam and coursework assessment, particularly important for a laboratory-based science course. Overall 48% of the course is assessed by coursework. The percentage assessment by coursework increases on progression through the course to reflect the development of independent laboratory and study skills.
Facilities
NSS results indicate high-quality resources available from the library and IT services.
You will learn in dedicated multi-million-pound teaching laboratories and have access to world-class research laboratories, where you will learn from our world-leading researchers involved in advanced healthcare.
You will also have access to our Simulation Suite which houses a human patient simulator (iSTAN) and a 3D touch table for virtual anatomy and dissection.
Recent investment in the Digital Health Zone demonstrates our strength in Health Technology.
Fees, finance and scholarships
Tuition fee
Home: £9,250
International: £19,160
Scholarships
Every year we award numerous non-repayable scholarships to UK, EU and international students on the basis of academic excellence, personal circumstances or economic hardship. For full details, visit our scholarships website.
Career support
The University is committed to helping students develop and enhance employability and this is an integral part of many programmes. Specialist support is available throughout the course from Career and Employability Services including help to find part-time work while studying, placements, vacation work and graduate vacancies. Students are encouraged to access this support at an early stage and to use the extensive resources on the Careers website.
Discussing options with specialist advisers helps to clarify plans by exploring options and refining skills of job-hunting. In most of our programmes, there is direct input by Career Development Advisers into the curriculum or through specially arranged workshops.
Employment statistics
92% of our 2017 BSc (Hons) Biomedical Science graduates found employment or went on to further study within six months of graduating.*
Salary expectations
The average starting salary for our 2017 BSc (Hons) Biomedical Science graduates was £19,875.*
*These DLHE statistics are derived from annually published data by the Higher Education Statistics Agency (HESA), based on those UK domiciled graduates who are available for employment or further study and whose destinations are known.
Career prospects
You will graduate with scientific, experimental and critical skills highly valued in graduate careers. You can apply your specialist skills and knowledge towards research in either medical or industrial research organisations (such as pharmaceutical and biotechnology companies) or universities and research institutes.
Openings exist in medical research (hospitals, universities or research institutes), the pharmaceutical industry, medical information services, teaching, medical writing and publishing. The course also provides essential transferable skills for non-science-based graduate employment.
Many graduates also undertake postgraduate study (medical degrees, Master's level or PhD level qualifications).
Others seek a more vocational qualification in dietetics or health service management.
Recent graduates have taken up positions as:
Biomedical Scientist – various NHS trusts
Cytology Screener – NHS
Experimental Officer; Lab Technician – Covance
Haemostasis Technical Assistant – Helena Biosciences Europe
Microbiologist – Arla
Scientist – Vectura Plc
Teaching Support Technician – University of Leeds
Study support
Our comprehensive support services will help you to achieve your full potential – both academically and personally.
We provide all you need to make the very best of your time with us, and successfully progress through your studies and on into the world of graduate employment.
Our support services include:
Personal tutors
Disability services
Counselling services
MyBradford student support centres
The Students' Union
Chaplaincy and faith advisers
An on-campus nursery
Halls wardens
We have well-stocked libraries and excellent IT facilities across campus. These facilities are open 24 hours a day during term time, meaning you'll always find a place to get things done on campus.
Our Academic Skills Advice Service will work with you to develop your academic, interpersonal and transferable skills.
Research
Our research expertise covers a range of areas including microbiology, cancer research, skin sciences and cardiovascular disease research. You can find out more about two of our research areas below:
Centre for Skin Sciences
Institute of Cancer Therapeutics
Celebrating 50 Years: 50 Stories
Professor Laurence Patterson talks about Bradford's longstanding expertise in cancer medicines discovery and development, and explains how researchers are working hard to find novel cancer treatments:
Last updated Jan 2020
About the School
At the University of Bradford, you'll benefit from - and be a part of – teaching and research that harnesses technology for the good of society. You'll learn from academic and industry experts who are ... Read More
At the University of Bradford, you'll benefit from - and be a part of – teaching and research that harnesses technology for the good of society. You'll learn from academic and industry experts who are shaping the future of their sectors in world-class facilities. We've invested millions of pounds in high-tech learning environments, such as our motion capture studio and new School of Management facilities. During your time with us, you can become the very best version of yourself. The University is a place where you can expand your mind and make lifelong friends; where you can grow, learn, experience. Where you can belong, and where we support you every step of the way.
Read less